Little Mashies reusable food pouches are safe, adorable, convenient and an award winning product that makes it easy to store and transport homemade baby food, smoothies, purees, yoghurt and much more.
The reusable food pouches are a fun way to serve nutritious homemade food to little ones, and a great way to reduce waste and save money otherwise spent on single- use food pouches at the supermarket. Little Mashies pouches are BPA Free, Phthalate Free, PVC Free, Freezer and Dishwasher safe.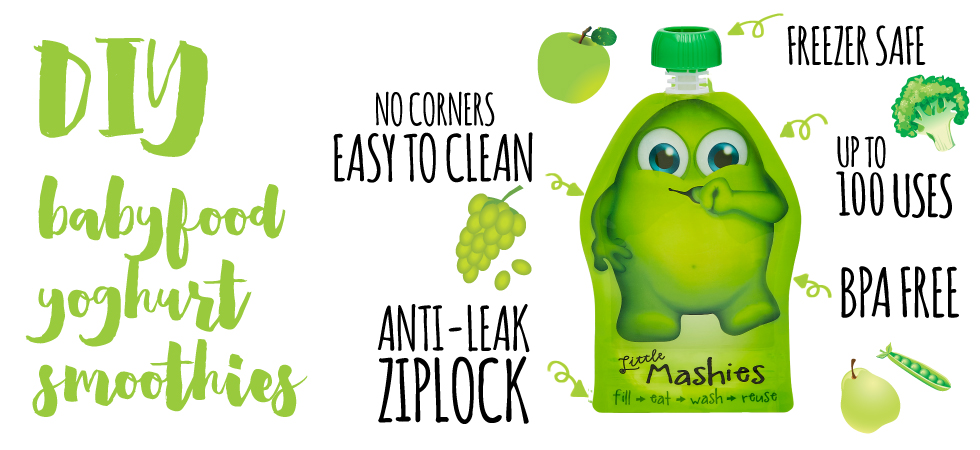 Little Mashies reusable food pouches come in a pack of 2 or for the more organized mum a pack of 10. With the Fridge and Freezer pack of 10 mums generally prepare 5 pouches filled with yoghurt or baby food and keep them in the fridge.  They then make healthy smoothies or pureed meals to put inside the other 5 pouches and these go in the freezer for emergencies.
Little Mashies reusable food pouches 10 pack is also great if you have more than one child, or like to prepare multiple meals over the weekend and then store them in the freezer to send to daycare or school.
The Fridge and Freezer 10 pack makes the perfect gift as it comes in a beautiful recycled box and a glossy instruction leaflet with recipes.
You can fill the Little Mashies food pouches with anything that is the consistency of a thick shake. Fruit & Vege puree, yoghurt, custard, smoothies, or pureed dinner meals for easy feeding with less mess and no fuss.
With Little Mashies it's easy to control the ingredients that go into your little ones food. There is no need for added sugar, preservatives or additives and you can be sure that the food inside is fresh and full of nutrients.  Little Mashies disguises home cooking. Great for children with food allergies.
When freezing Little Mashies containers please follow food safety guidelines.
Heat and defrost Little Mashies by running them under warm water.
Little Mashies reusable food pouches can be reused up to 100 times when you follow these simple instructions.
TO FILL
Simply open the ziplock at the bottom and fill the reusable food pouch with a spoon, pitcher, or funnel. Fill your Little Mashies ¾ full (or to the fill line), press the ziplock closed then run your fingers along zipper to make sure it is locked in tight.  When closed properly it will be very tough to open. Wipe away any excess dribbles.
TO CLEAN
Wash the pouch with warm soapy water and a bottle brush.  Because of the curved shape food runs straight out.  It takes about 20 seconds.  Even left in a lunch box all day Little Mashies will clean easily because there are no corners or gussets for food to get stuck.  You can also rinse it and put it in the dishwasher but the high water temperature will decrease the life of the ziplock considerably. Please wash by hand and replace your containers if uneven sealing appears.
TO DRY
Take the cap off. Place a whisk, spatula or large spoon inside the pouch with the ziplock open and pop it in a glass on the window sill or benchtop.  It will dry overnight with the ziplock wide open and the cap removed.  Creating airflow will help maximize the life of the reusable food pouch.
TO STERALIZE
Little Mashies are safe to use in steam steralizers, or with liquid and tablet steralizers commonly  used for baby bottles and teats. Do not boil Little Mashies reusable food pouches.  Little Mashies are safe to use with warm food but extremely high temperatures will decrease the life of the pouch.
FEATURES OF THE LITTLE MASHIES INCLUDE
Wide double ziplock along the bottom of the pouch for easy filling
Cute Monsters design which makes meal times fun
Soft mouldable plastic that is BPA Free, Phthalate Free, PVC Free and Lead-free
Dishwasher safe and Freezable
Super strong design for use over and over again up to 100 times if you treat them right
Large cap to reduce the risk of choking (plus all store bought pouch caps and pouch spoons fit Little Mashies)
Easy shape to clean with hot soapy water and a bottle brush
Wide bottom opening to make drying the pouch a breeze
140mls (best filled to 110mls)
Not recommended for microwave use