Sinchies are an Australian producer of reusable food pouches located on the Sunshine Coast in Queensland.  Their award winning reusable food pouches are designed for the modern mum's in today's fast-paced society who face a range of competing demands when it comes to feeding their children.  Topping this list are essential factors such as healthy eating, affordability, convenience and ease of preparation.
Sinchies have incorporated all four of these elements into one eco-friendly product, revolutionizing the way we think about "fast food".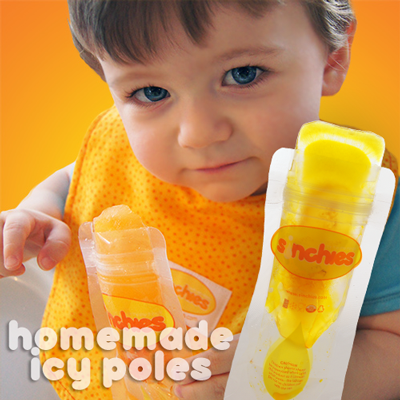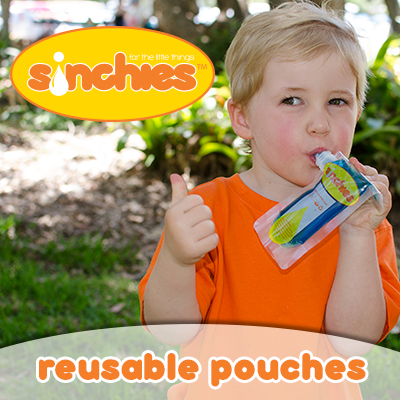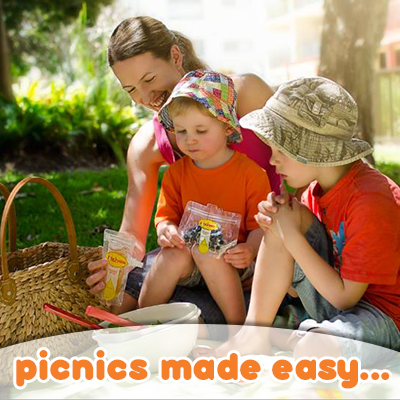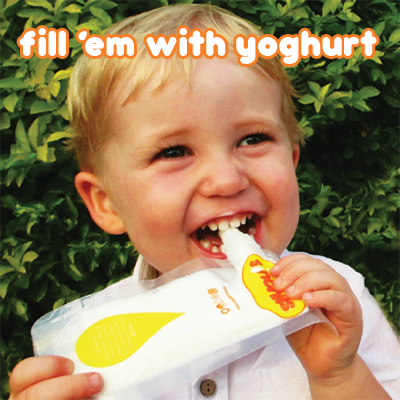 Sinchies reusable food pouches are sure to encourage healthy eating, reduce waste and cut food costs and provide a practical, safe, easy, fun, clean and sensible way to feed your children from baby to school age – at home, at school, or  when out and about. Simply mix your homemade goodness, healthy snacks, baby food, yoghurts, smoothies or fruit crushers, pour it in and zip it up.
Sinchies reusable food pouches are designed for feeding "on the run". Young children can enjoy feeding themselves through the handy spout which allows them to suck or squeeze out their snacks and meals – no bowl or spoon required.  Older children can participate in the preparation process, learning about healthy foods along the way.
Parents can monitor exactly what goes into the food pouch, ensuring their children receive optimum nutrition that is free from preservatives sugars or additives that are often found in pre-packaged food. Great for children with allergies or special dietary requirements.
Sinchies come in 5 sizes 80ml, 140ml, 200ml, 500ml and 1L capacity. The 80ml is perfect for international flights with liquid restrictions.

Sinchies are free from BPA, phthalate and PVC
FEATURES
made from PET/NY/PE

suitable for all sorts of purposes such as travel toiletries, sauces , pastes, icing, toothpaste, sunscreen, shampoo , cocktails and salad dressings.

choose you own healthy ingredients, whizz it, pour it and zip it up

Sinchies reusable pouches are designed for easy filling and washing and have a double waterproof zip-lock top to prevent leaks.

designed with a spout for children to suck or squeeze out the contents – no bowl or spoon required

freezer and dishwasher safe
HOW TO WASH SINCHIES
Wash with a bottle brush and pop on a cup or over utensils to dry open. Also possible to rinse and then wash in dishwasher with them popped open. For the spout use a small teat brush or straw cleaning brush.
HOW TO FILL
Open the reusable pouch at the zip-lock and pull the bottom gusset open.  Fill your Sinchies (using varies means such as pouring from container, funnel, piping bag or sauce bottle.  Tap on the bench.  Screw on lid. Fasten zip-lock.
Also available to the Sinchies range are Reusable Sandwich Bags and Snack Bags.
The idea for these is to replace the mountains of glad bags that get thrown out daily and end up in landfill.  These Sinchies reusable sandwich bags will help reduce waste while saving you money on the disposable bags. Like the rest of the Sinchies range these are versatile little beauties and uses are endless.  Don't limit them to just one thing – why not use them for storing snacks, left overs, crackers or frozen fruit for smoothies.
featuring thick durable plastic, they are strong and sturdy and moisture resistant.

they have double zip-lock top making them airtight so your sandwiches or snacks stay as fresh as can be

there is a handy little tab at the top to help little fingers pull the reusable sandwich bag/pouch open.

these are opaque/clear bags so you can easily see the contents  (and don't forget great for cleaning too as you can see any bits left stuck inside)

Sandwich bags are 16cm wide by 17cm high

snack bags are 13cm wide by 8cm high